Archives
Rubella elimination confirmed for Australia by World Health Organization (WHO)
Nov 2018 - News
The World Health Organization (WHO) has this week verified that Australia has eliminated rubella.  
A media statement by The Hon Greg Hunt MP, Minister for Health, has said that 'the elimination of rubella is a great day for public health in Australia and sends a powerful message that vaccinations work' and is 'testimony to the success of our National Immunisation Program'.

We should not become complacent though, say NCIRS experts Professor Kristine Macartney, Associate Professor Heather Gidding and Dr Aditi Dey in their article published in The Conversation.  They stress 'it is important that we maintain high coverage with our routine vaccination programs to ensure elimination is sustained, as rubella is still likely to be imported from other countries'. They also say that 'travellers should have had two MMR vaccinations before going overseas, and every effort must be made to ensure new arrivals in Australia are up to date with their vaccinations, especially women of child-bearing age'. Finally they note that 'to eradicate rubella globally we need to support other countries in our region, and globally, to strengthen their control efforts'.

WHO has also confirmed that Australia has maintained its measles elimination status, which was verified in 2014.
---
MEDIA RELEASE- AusVaxSafety reports world-first active vaccine safety data for new HPV vaccine
Oct 2018 - News
Australia's active vaccine safety surveillance system collects over 8, 000 SMS-based survey responses from parents reporting Gardasil9®is safe
Data from AusVaxSafety confirm the safety of new human papillomavirus (HPV) vaccine Gardasil9® in Australian adolescents. Over 8,000 parents of vaccinated 11–14 year olds have provided feedback to an SMS-based survey of safety after the jab. Gardasil9® vaccine was added to the National Immunisation Program this year for adolescent males and females and prevents HPV-related cancers, such as cervical, and head and neck cancer.
Using automated Smartvax software, which sends an SMS survey to parents 3 days after vaccination to ask about any adverse events, the AusVaxSafety program has been monitoring and reporting to the Australian Government Department of Health on Gardasil9® since February 2018. No vaccine safety concerns have been identified to date; the most common and expected findings have been reports of injection site reactions in 3.8% of reports.
This world-first active vaccine safety data for the new HPV vaccine will be showcased at the 32nd International Papillomavirus Conference in Sydney this week.
Professor, Discipline of Child & Adolescent Health, University of Sydney and the National Centre for Immunisation Research and Surveillance (NCIRS) Director, Kristine Macartney, commented, "We are very excited to add to the global body of research regarding the safety of Gardasil9®, and hope this information will support the wider uptake of this life-saving vaccine."
HPV is a common virus that can lead to different types of cancer, including cancer of the cervix, head and neck and other anogenital areas. The new vaccine protects against 9 different types of HPV (5 more types than the previous vaccine) and is recommended for routine vaccination at around 12–13 years of age. The vaccine is delivered mainly through free, school-based immunisation programs, with some doses also given by GPs. AusVaxSafety monitoring of Gardasil9 vaccine is been undertaken in schools and GPs across Australia.
More HPV vaccine safety surveillance results, as well as results for other vaccines such as those protecting against whooping cough, shingles and influenza, are available on the AusVaxSafety website. In 2018, AusVaxSafety collected data confirming the safety of influenza vaccines in more than 167,000 children and adults surveyed.
About AusVaxSafety:  Led by the National Centre for Immunisation Research and Surveillance (NCIRS) and funded by the Australian Government Department of Health, AusVaxSafety is a world-leading national vaccine safety system.
AusVaxSafety was established in 2014 to monitor adverse events following immunisation (AEFI) with influenza vaccines in children. AusVaxSafety has now grown into a multi-component system, which has significantly improved Australia's ability to monitor, detect and respond to vaccine safety events.
AusVaxSafety components include active surveillance using solicited feedback from consumers; nationally collaborative clinical investigation and management of specific adverse events following immunisation via adverse events following immunisation-Clinical Assessment Network (AEFI-CAN); and novel zoster vaccine safety analysis using National Prescribing Service (NPS) MedicineInsight data.
AusVaxSafety is a collaboration between immunisation providers, private enterprise, research institutions, state and territory governments and the Australian Government Department of Health. For more information on AusVaxSafety, visit www.ausvaxsafety.org.au.
About NCIRS: NCIRS is the leading research organisation in Australia working to support evidence-based policy development for the evaluation of the National Immunisation Program and surveillance of vaccine preventable diseases, vaccine coverage and vaccine safety more widely. For more information, visit http://www.ncirs.edu.au/
Media contact:
Salema Barrett 
Communication Officer, National Centre for Immunisation Research and Surveillance
salema.barrett@health.nsw.gov.au
---
Giving pertussis vaccine at birth may protect baby if mum did not get vaccine in pregnancy
Sep 2018 - News
A report published in the prestigious American journal JAMA Pediatrics, gives results of a National Health and Medical Research Council funded trial led by researchers from NCIRS. This study was a collaboration between NCIRS and the Universities of Sydney, Melbourne, Adelaide, and Western Australia, together with the Murdoch Children's, Robinson and Telethon Research Institutes. This is the largest ever trial of a pertussis vaccine at birth and included 440 newborns in Sydney, Melbourne, Adelaide and Perth. The trial was designed to show whether also giving pertussis vaccine at birth could protect against life-threatening whooping cough in the first 3 months of life.
The trial used a special pertussis-only vaccine (without diphtheria or tetanus) and randomised infants within 5 days of birth to receive only hepatitis B vaccine (HBV) or HBV and pertussis. Hepatitis B vaccine at birth has been recommended in Australia since 2000. Babies received usual vaccines at 6 weeks, 4 months and 6 months. The study found significantly higher pertussis antibody levels at 6 and 10 weeks of age in babies who had the birth vaccine, levels not achieved until at least 4 months of age currently. Since even one dose of pertussis vaccine provides good protection against death from pertussis, this is a major finding.
Receipt of a birth dose of pertussis vaccine was safe and well-tolerated, with no increase in side effects compared with HBV only.
Since the trial started, data from a country-wide emergency programme in England have shown giving a dose of standard pertussis vaccine (with diphtheria or tetanus) to mothers is effective in preventing severe whooping cough in the first 3 months of life in their infants, and this evidence has resulted in the vaccine being provided for all pregnant women through the Australian National Immunisation Program from July 2018. However, infants whose mothers are not vaccinated or are born prematurely are not protected.
The pertussis-only vaccine is an attractive option for immunising mothers too. If such a vaccine were licensed and available in Australia, it would provide the full range of options to protect babies younger than 3 months of age from severe pertussis, said Associate Professor Nick Wood, who led this study.
Wood N, Nolan T, Marshall H, et al. Immunogenicity and Safety of Monovalent Acellular Pertussis Vaccine at BirthA Randomized Clinical Trial. JAMA Pediatr. Published online September 10, 2018. doi:10.1001/jamapediatrics.2018.2349
More information »
---
Practice Management Software - Advice following the National Immunisation Program Schedule Changes - 1 July 2018
Sep 2018 - News
The National Immunisation Program (NIP) Immunisation Schedule changed on 1 July 2018. It is important that immunisation providers upgrade their practice management software to the latest version once it is released to ensure timely and correct immunisation information is transferred to the Australian Immunisation Register. This resource provides a summary of the current status of some of the commonly used practice software in relation to the schedule changes. Dose numbers also accepted by AIR relating to the schedule changes is also documented.
This information has been collated by staff of the PHN Immunisation Support Program (a joint initiative of NCIRS and NPS MedicineWise) and dose numbers confirmed by the Australian Immunisation Register. Great care is taken to provide accurate information at the time of creation, however users are responsible for checking the currency of this information. Once printed, this document is no longer quality controlled. Content considered correct as of 28 August 2018.

Download here >>   [PDF – 389kB]
---
PhD Scholarship opportunity
Aug 2018 - News
A unique opportunity is available for an outstanding PhD scholar to undertake research into the field of vaccine safety social science to contribute to AusVaxSafety; Australia's world-leading active vaccine safety system. The scholar will conduct mixed-methods research to evaluate the acceptability and usefulness of AusVaxSafety's active vaccine safety surveillance, as well as the impact of AusVaxSafety on consumer and immunisation provider confidence in vaccines, vaccine safety, and immunisation programs.
The revised closing date is 9 October 2018 and more information can be accessed here,
---
PAEDS-FluCAN Collaboration – Influenza Epidemiology, Vaccine Coverage and Vaccine Effectiveness in Children Admitted to Sentinel Australian Hospitals in 2017
Aug 2018 - News
New research investigating the devastating impact of the 2017 flu season by PAEDS-FluCAN has confirmed it was time to take action after thousands of children were hospitalised with the virus last year.
"Influenza is a highly contagious disease that can lead to life-threatening complications such as pneumonia, inflammation of the heart, brain, or muscle tissues, and multi-organ failure," said study co-author Dr Chris Blyth from the Wesfarmers Centre of Vaccines and Infectious Diseases at Telethon Kids Institute.
Published in Clinical Infectious Diseases, the results from the PAEDS-FLuCAN collaboration led to all Australian states and territories providing a free flu vaccine for children under five years in 2018.
"It is the most common vaccine-preventable cause of hospitalisation and infection-related death, more common than whooping cough and meningococcal disease, yet our research has shown parents are under-estimating the urgency to protect their children against the flu." "We need to help parents understand that the younger you are, the higher the risk of being hospitalised with the flu. This is because the first exposure to the virus is always the most severe, striking when the immune system is still developing. Aboriginal children and kids with chronic medical conditions are also at the greatest risk," said Dr Blyth.
"Sadly, we have already seen one young child lose their life from influenza in NSW this year, so I can't emphasize enough how important it is to have your children vaccinated. 
"Statistics from last year show that the highest number of cases occurred in late August, so it is not too late to protect your child from a potentially deadly case of the flu."
The flu vaccine is registered for babies from six months of age onwards, and women are advised to receive the vaccine during pregnancy to provide protection to newborns in their most vulnerable first few months of life. 
The paper detailing the study, Influenza epidemiology, vaccine coverage and vaccine effectiveness in children admitted to sentinel Australian hospitals in 2017: Results from the PAEDS-FluCAN Collaboration, was published on 21 August, 2018.
Original source: Telethon Kids Institute
---
Congratulations Dr Sanjay Jayasinghe winner HDR publication of the year
Aug 2018 - News
Congratulations Dr Sanjay Jayasinghe, Research Fellow NCIRS, winner of the
University of Sydney,
Children's Hospital Westmead Clinical School Higher Degree by Research publication of the year.
Dr Jayasinghe received the award for the publication as below from his PhD work examining the effectiveness of pneumococcal conjugate vaccines in children.
Jayasinghe S, Chiu C, Quinn H, Menzies R, Gilmour R, McIntyre P.
Effectiveness of 7- and 13-valent pneumococcal conjugate vaccines in a schedule without a booster dose: a 10-year observational study.
Clinical Infectious Diseases 2018;67:367-74.
[Abstract]

Congratulations Sanjay!
---
Have you had your diphtheria vaccines? Here's why it matters
Aug 2018 - Meru Sheel, and Kristine Macartney - News
Meru Sheel, University of Sydney and Kristine Macartney, University of Sydney
An adult from the north coast of New South Wales is the latest Australian to be diagnosed with the deadly infectious disease, diphtheria. The patient, who was diagnosed on Monday, is being treated with antibiotics and health authorities have followed up all contacts.
Few doctors and nurses in Australia have ever seen the disease, yet recent cases and a death remind us how dangerous this disease can be, and the importance of immunising against it.
Diphtheria vaccine (in combination with tetanus and pertussis - also known as whooping cough) is offered free to all children at two, four and six months of age. Three booster doses are recommended at 18 months, four years and around age 12 years in the national school-based immunisation program. Adults are also recommended to catch-up on vaccination if they missed out as a child.
---
Read more: Forget 'no jab, no pay' schemes, there are better ways to boost vaccination
---
What is diphtheria?
Diphtheria is caused by toxin-producing strains of the bacterium Corynebacterium diphtheria and Corynebacterium ulcerans, which mostly affects the throat and airway. It causes grey and white patches on the tonsils that can form a membrane and make it difficult to breathe.
This respiratory form of the infection can also cause massive swelling of the neck, known as "bull neck". Heart, kidney and neurological complications can follow.
Diphtheria commonly spreads from person to person through spitting and coughing. A less serious form is skin sores, but the infection can also spread through these painful skin lesions.
Patients are treated with antibiotics to clear the bacteria and stop toxin production and limit the spread of bacteria to others.
Antitoxin
The disease-causing bacteria was discovered and identified in 1884 by German bacteriologists.
The disease was incurable until Emil von Behring showed that giving patients serum from animals previously infected with diphtheria, known as antitoxin (antibodies to the toxin produced by the bacteria), could save their lives. He posthumously received the first ever Nobel Prize in Physiology and Medicine in 1901.
Once diphtheria antitoxin was available, the number of cases of diphtheria dropped, but it was still a massive killer. In the United Kingdom in 1945, around 9,000 children died of diphtheria, compared to 8,000 due to bombing.
Vaccine
The discovery of a vaccine against diphtheria in 1923, and the development of the combination vaccine for diphtheria, tetanus and pertussis (DTP) in 1948 is one of the greatest public health stories of all times.
In the early 1970s, prior to widespread immunisation, there were around one million cases of diphtheria worldwide each year.
Forty years later in 2016, 86% of children worldwide had received three doses of the vaccine by the age of one and the number of cases dropped to just over 7,000.
These successes and the decline in cases almost led to diphtheria being a "forgotten disease".
Major recent outbreaks worldwide
Large-scale outbreaks of diphtheria have been reported in Haiti in 2014, Venezuela in 2016, Yemen in 2017, Indonesia in 2017 and among the displaced Rohingya population in Cox's Bazar, Bangladesh in 2017.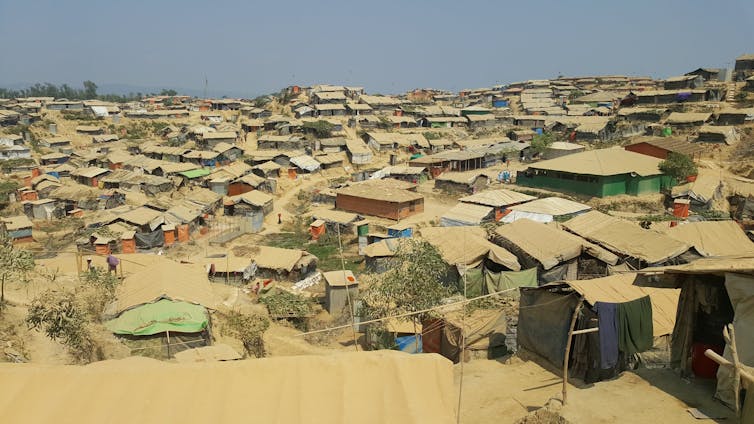 Rohingya Camps in Cox's Bazar, Bangladesh – site of a recent outbreak of diphtheria with more than 6,000 reported cases. Meru Sheel, Author provided
These outbreaks are largely preventable and are a result of failing health systems and immunisation programs. Low immunisation coverage for three doses of diphtheria vaccine of 63% in Haiti, 59% in Venezuela, 60% in Yemen and 62% in Myanmar, was a common factor.
The outbreak of diphtheria in Indonesia tells us that low and incomplete immunisation, along with several other factors, also contribute, including increasing antibiotic resistance, vaccine distribution issues and population mobility, as well as people's perception of vaccines.
---
Read more: Indonesia's diphtheria outbreak: problems in vaccination and antibiotics efficacy
---
A similar epidemic occurred across former states of the Soviet Union in the early 1990s following dissolution of the USSR, when immunisation levels plummeted.
Diphtheria in Australia
Diphtheria vaccination in Australia began in late 1920s and was included in the first era of mass vaccination campaigns. The disease has been well-controlled in Australia since routine childhood vaccination began in 1950s.
Between 1991 and June 15, 2018, there were 37 notifications for diphtheria, with only one case between 1993 and 2010.
But case counts have risen in recent years, with 31 people affected since 2011. While some had the milder form of skin sores, deaths from respiratory diphtheria were reported in 2011 and in 2018, both in young adults who were not immunised.
What's the solution?
Overall, Australia has achieved high diphtheria vaccine coverage, with more than 94% of children vaccinated. This helps provide herd immunity against the disease.
---
Read more: Explainer: what is herd immunity?
---
The risk of diphtheria comes from these recent multi-country outbreaks and pockets of low vaccine coverage in Australia. Local cases in regions with historically low vaccination rates in children (less than 90%) stress the importance of catching up adults who may have missed vaccines in childhood.
The diphtheria vaccine is safe, effective and funded under the National Immunisation Program.

These recent cases are a reminder of why we need to continue to vaccinate against disease now considered rare in Australia. They also underpin the importance of Australia's contribution to strengthening of health systems and immunisation in the region.
Meru Sheel, Epidemiologist | Senior Lecturer, University of Sydney and Kristine Macartney, Professor, Discipline of Paediatrics and Child Health, University of Sydney
This article was originally published on The Conversation. Read the original article.
More information »
---
Enhanced flu vaccines for people aged 65 years and over - MEDIA Release
Jul 2018 - News
In response to the severe 2017 influenza season, the Australian Government has funded two new enhanced influenza vaccines for people aged 65 years and over. The vaccines could boost the effectiveness of protection by about 25% compared to standard influenza vaccines, according to the authors of a Perspective published online by the Medical Journal of Australia.
Influenza is the leading vaccine-preventable cause of morbidity and mortality each year in Australia. Older people are particularly at risk of severe outcomes, such as hospitalisation, pneumonia, acute myocardial infarction and death. In 2017, 22% of all 249 932 notified influenza cases occurred in people aged 65 years and over.
The National Immunisation Program funds annual influenza vaccines for older Australians, with quadrivalent influenza vaccines (QIVs) replacing trivalent inactivated influenza vaccines (TIVs) in 2016.
However, according to the Perspective authors, led by Dr Sarah Sheridan, a public health physician at the National Centre for Immunisation Research and Surveillance, and a Research Fellow at the University of New South Wales, "the effectiveness of both the standard dose TIVs and QIVs in older people has been relatively poor, particularly against influenza A/H3N2, which consistently causes a higher proportion of disease among [people] 65 years and over as compared with other age groups".
"Immunosenescence — broadly defined as decreased immune responses in older people — likely contributes to lower vaccine effectiveness, meaning that those most affected by influenza are also least likely to gain protection from vaccination," Sheridan and colleagues wrote.
The two new enhanced TIVs are only registered and funded for people aged 65 years and over. They improve protection against influenza by eliciting "greater antibody responses" compared with standard TIVs. One vaccine does this by including a higher dose for each strain, whereas the other vaccine contains an adjuvant that helps boost the immune response.
"One clinical trial, in which about 16 000 participants received high dose TIV, found the relative vaccine efficacy of high dose TIV across two influenza seasons, compared with standard TIV, to be 24% against laboratory-confirmed influenza overall, including 23% better against influenza A/H3N2," Sheridan and colleagues wrote.
"Protection against influenza-related pneumonia was enhanced by 40%."
Although there have been no significant safety issues with the two enhanced TIVs, mild side-effects are more common for both compared with standard TIV, the authors wrote.
"Pain is the most common local reaction, occurring in 36% of high dose compared with 24% of standard TIV recipients, and 32% of adjuvanted compared with 17% of standard TIV recipients. Systemic reactions occurred in about a third of high dose and adjuvanted TIV recipients. Severe local or systemic reactions were rare (under 1%)."
They concluded that the new TIVs are likely to provide "modest additional protection against influenza which may vary from season to season". On average, standard vaccines reduce the risk of influenza by around 40–50%.
"Theoretically, applying the relative increase in protection provided by the new TIVs, would see these enhanced TIVs have an effectiveness of around 55-63%."
Read more in Under the microscope: enhanced flu vax for elders - MJA InSight 27, 16 July 2018
The Medical Journal of Australia is a publication of the Australian Medical Association.
More information »
---
April - June 2018 - Newsletter
Jun 2018 - Newsletters
Download the file »
---
1 2 3 4 5 6 7 8 9 10 11 12 13 14 15 16 17 Next